Medical information

Regarding Clinical Trial for Primary Vitreoretinal Lymphoma
Scientific Title
ONO-4059(Bruton tyrosine kinase inhibitor) therapy for primary vitreoretinal lymphoma :an investigator-initiated, randomized, double-blind, phase II clinical trial
This research is an investigator-initiated clinical trial, aiming at the development and regulatory approval of innovative cancer therapeutic drugs (including products such as regenerative medicine) at the first open call for practical research for innovative cancer Control in 2019 (area 3-2) originating in Japan.
Summary
The efficacy and safety of Bruton tyrosine kinase inhibitor, (ONO-4059) that are expected to suppress recurrence, will be examined for primary vitreoretinal lymphoma
| | |
| --- | --- |
| Scientific Title | ONO-4059(Bruton tyrosine kinase inhibitor) therapy for primary intraocular lymphoma :an investigator-initiated,  randomized, double-blind,  phase II clinical trial |
| Coordinating investigator | Taoka Kazuki, The University of Tokyo Hospital |
| Department | Hematology and Oncology |
| Principal investigator | Taoka  Kazuki |
| Investigational drug | (ONO-4059)Tirabrutinib hydrochloride |
| Scheduled(Expected) indication | Suppression of recurrence after remission for primary vitreoretinal lymphoma |
Regarding the investigational drug
Bruton tyrosine kinase is involved in B cell activation and proliferation. Oral administration of ONO-4059 suppresses the activation of Bruton tyrosine kinase and suppresses recurrence, and is expected to improve the prognosis of life. In addition, since radiation to the brain can be avoided, dysfunction due to leukoencephalopathy can be avoided. Since this drug is prescribed outpatiently, it has less physical and mental burden and has fewer side effects than other antitumor drugs, so it can be used even by the elderly.
Name
Tirabrutinib hydrochloride
Brand name:  Velexbru
Development company
Ono Pharmaceutical CO., LTD

Cooperated company:Gilead Sciences, Inc.(US)

Dosage form
Tablet
Route of administration
oral
Mechanism of action
Bruton tyrosine kinase inhibitor
Inclusion criteria
・Gender: Any
・Age(at the time of consent): 20 years or older
・Patients diagnosed with primary vitreoretinal lymphoma who are confirmed to be in complete remission by the central imaging committee with ocular lesions, brain and whole body imaging after local treatment of the affected eye(s)
・Patients who can start administration of the investigational drug within 21 days of official registration (In principle, administration should be started on the day of official registration, and early start is recommended if it is difficult)
・Patients with a Performance Status (PS) of 0 or 1
・Patients whose latest clinical laboratory tests performed during the screening period meet the following criteria
1) Neutrophil count of 1,000/mm3 or higher
2) Platelet count of more than 50,000 /mm3
3) Hemoglobin of 8.0 g/dL or higher
4) AST (GOT) and ALT (GPT) less than 2.5 times the upper limit of the institutional standard
5) Total bilirubin less than 1.5 times the upper limit of the institutional standard
6) Creatinine clearance of 50 mL/min (Cockcroft-Gault formula) or 30 mL/min/1.73 m2 (MDRD formula) or higher
If you are considering to join a clinical trial, please consult your doctor.
Exclusion criteria
・Patients with vitreoretinal lymphoma with brain lesions
・Patients with systemic lymphoma lesions
・Patients with secondary vitreoretinal lymphoma
・Patients with T-cell lymphoma
・Patients with unevaluable ocular lesions
・Patients who received systemic chemotherapy or whole brain radiation therapy after the date of diagnosis of vitreoretinal lymphoma.
・Patients who received radiation therapy or topical ocular therapy within 14 days prior to official registration.
・Patients who underwent surgery within 28 days prior to official registration
・Patients who received all unapproved medications (Includes clinical study administration, unapproved combination drugs, and new dosage forms) within 28 days prior to official registration, except for topical ocular therapy
・Patients who have been continuously using systemic corticosteroids (more than 10 mg/day of predonin equivalent) within 14 days prior to official registration
・Patients who received CYP3A4 inducer or P-gp inducer within 14 days prior to official registration
Study design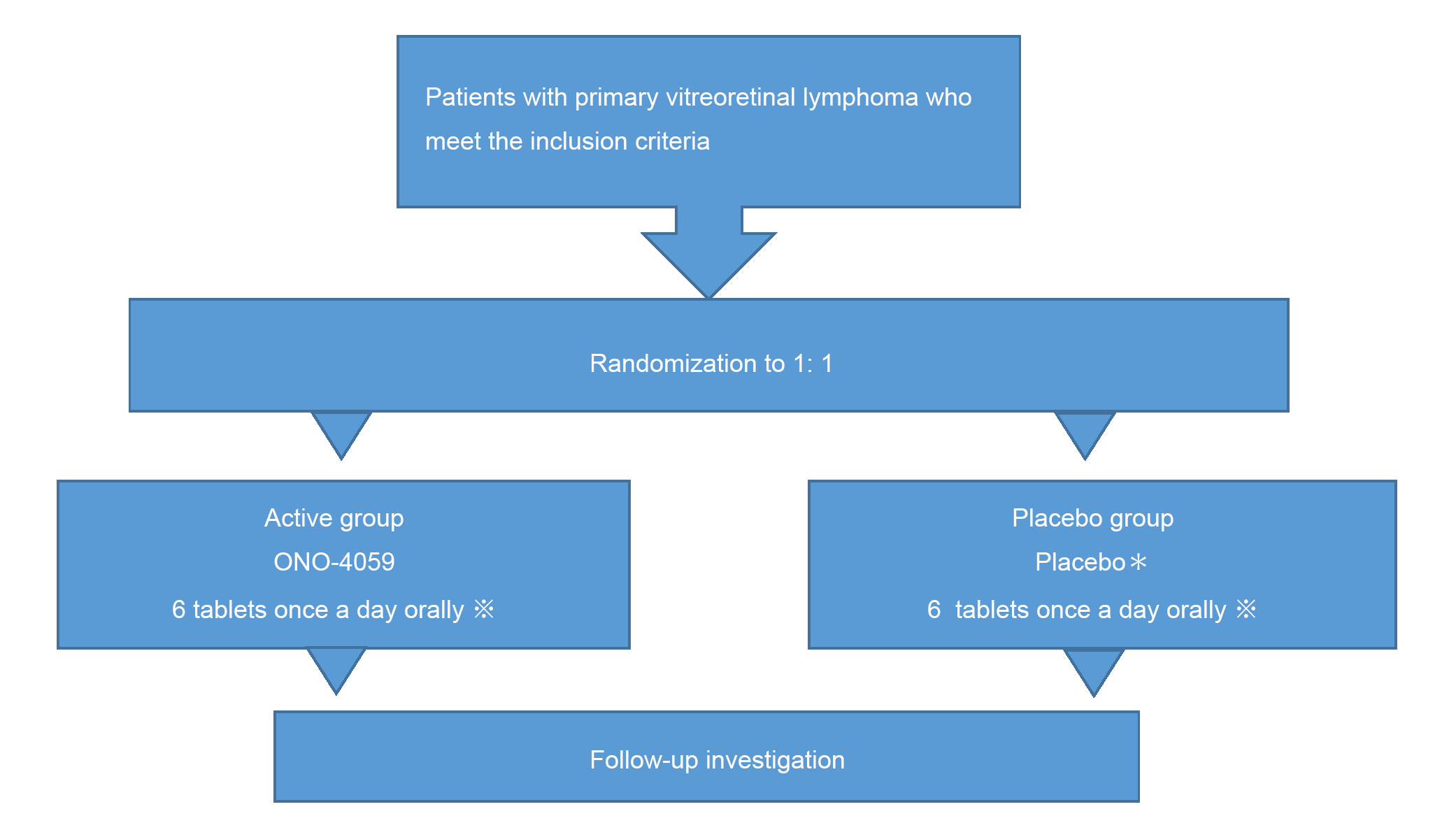 *:A placebo is similar in appearance to an investigational drug, but does not contain any medicinal ingredients.
※:Dosage may be reduced
Schedule
Dosing / test schedule

The investigational drug should be administered until recurrence is judged or a prescribed adverse event occurs.
Even after discontinuation of administration, follow-up will be conducted every 8 weeks in principle.
・ Brain MRI is taken every 8 weeks and whole body CT is taken every 16 weeks
・ Request the central judgment committee to judge the images at the time of ocular test and MRI and CT images.(The judgment result will be fed back in about 10 business days)
*In principle, the visit date allowanse is ± 7 days after the 8th week, but if it is difficult due to long holidays or due to the inspection schedule, up to ± 14 days is allowed. In that case, pay attention to the withdrawal of the investigational drug.
Primary and secondary endpoints
​Primary and secondary endpoints
・Recurrence-free survival(RFS)
Period from randomization date to centralized recurrence
Secondary evaluation items
・Overall survival (OS)
・Recurrence to the brain / central nervous system
・Recurrence into the eye
・Recurrence to other parts
Precautions
Prohibited concomitant drug (therapy)
・Systemic corticosteroids such as prednisolone
(However, administration to patients with adverse events such as skin disorders is permitted)
・Treatment for malignant tumors (chemotherapy, immunotherapy, hematopoietic stem cell transplantation, etc.)
・Other unapproved drugs (including administration by clinical studies, unapproved combination drugs, and new dosage forms)
・Strong CYP3A4 inhibitor
・CYP3A4 inducer, P-gp inducer
Caution Combination drug (therapy)
・Drugs metabolized or transported by CYP 3 A 4&5, OAT 3, OATP 1 B 1, MATE 1, OCT 1, OCT 2 or P gp
Clinical trial institute
・The University of Tokyo Hospital

Click here for information on clinical trial sites and participation in clinical trials
Clinical trial period
Feb. 2021~ Jan 2025
If you are considering to join a clinical trial, please consult your doctor